Summer Camp Trunks & Duffel Bags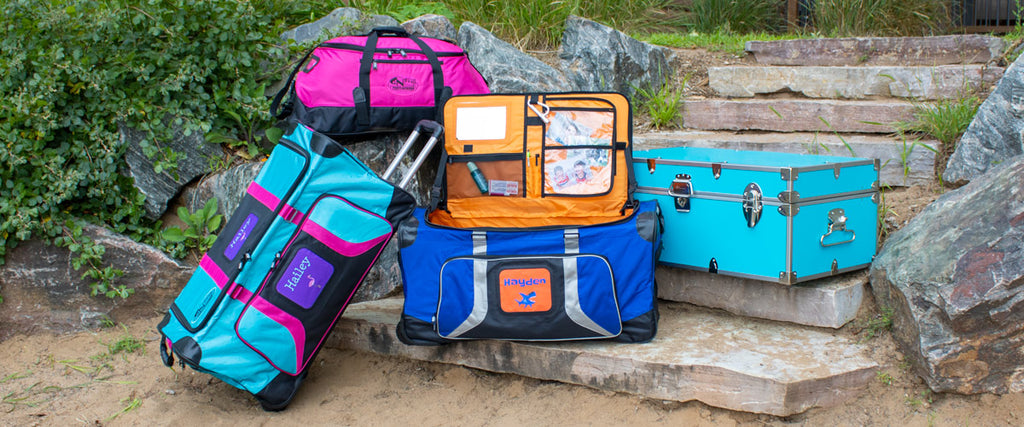 We sell the best summer camp trunks and foot lockers providing safe storage for happy campers. Personalize your trunk or duffle bag with our cool trunk accessories like our Wheel Away System or a LidMate Organizer.

At Everything Summer Camp we have decades of summer camp experience under our belt. In fact, Everything Summer Camp is recommended by over 250 Summer Camps nationwide. Our expertise when it comes to the best camp trunks or duffle bags is second to none.

Whether your happy camper is only headed into the woods for the weekend or a longer sleepaway camp trip, we have the camp gear you need to have the best experience possible. 
And ensure your camper comes home with all their things!

Summer Camp Trunks
Our summer camp trunks are the real deal. 
Made in the USA from cabinet-grade plywood with a scratch resistant enamel-coated steel exterior, our Everything Summer Camp trunks are built to last through years of adventure and travel. 

In fact, our trunks often become passed down within families from older siblings to their younger brothers or sisters.

Essential Camp Trunk Accessories
Alongside developing one of the best summer camp trunks, we've developed some must-have camp trunk accessories you'll love. 

Our Wheel Away attachment system transforms your camp trunk into a trunk with wheels. This attachment makes trunk transport a breeze and is one of our best sellers. 

We also have specially designed LidMate Organizers and Packing Cubes, created to fit seamlessly in our summer camp trunks and help keep your camper organized all summer long.

Custom Camp Trunks: Your Style, Your Way!
Alongside our twenty standard colors for camp trunks, we can also create a fully customized trunk made by you! Express yourself, show off your creativity, and make a summer camp trunk that is undeniably yours at first sight.

You can mix and match colors, even choose a different color for each panel, and don't forget to include a custom Lidskinz or metal Nameplate to add that personal touch to your footlocker.

Duffel Bags & Backpacks
It's true, not every summer camp can allow for hard shell trunks due to size or transportation constraints. If that's the case, we have a few of our duffle bag styles available that are perfect for summer camp from brand names like:

Osprey
Kelty
Deuter

Under Armour

Marmot & More!
Duffel Bags are great options for shorter trips where luggage space is limited because they can compress during transport. We decided to apply that thinking to a trunk and created the soft pop up trunk!
Pop Up Soft Camp Trunk

When we created the Pop Up Soft Summer Camp Trunk we wanted to combine the best features of our hard camp trunks with the compression features of a duffle bag. The resulting trunk has over 6000 cubic inches of internal storage and is loaded with features like:
Wheels

Expandable Handle

Water Proof Pocket

Lid Organizer

Front and Side Pockets

Collapsibility for Storage




If you need more storage space, pair the soft camp trunk with an attachable duffel bag. The Piggy Back Duffel Bag will give you additional storage and securely attach to your soft pop up trunk. Made of the same super durable 800D nylon as the soft trunk, this duffel holds up on its own just as well.
Backpacks for Camp
Backpacks are a great piece of camping gear because they allow you hands-free storage on hikes and other adventures. At Everything Summer Camp we carry a variety of outdoor brand backpacks including Osprey, Deuter, and Camelbak for your hiking and hydration needs.

The Best Summer Camp Experience is a Prepared Experience

Being properly outfitted for summer camp helps to ensure campers get the most fun and enjoyment out of their experience. Help your kids keep their stuff safe and organized with a camp trunk, footlocker, or duffle bag from Everything Summer Camp. 

If you have any questions about summer camp trunks, duffle bags, backpacks, or other gear, please don't hesitate to send us an email or give us a call at 1-800-535-2057.