Kids' Camping Clothes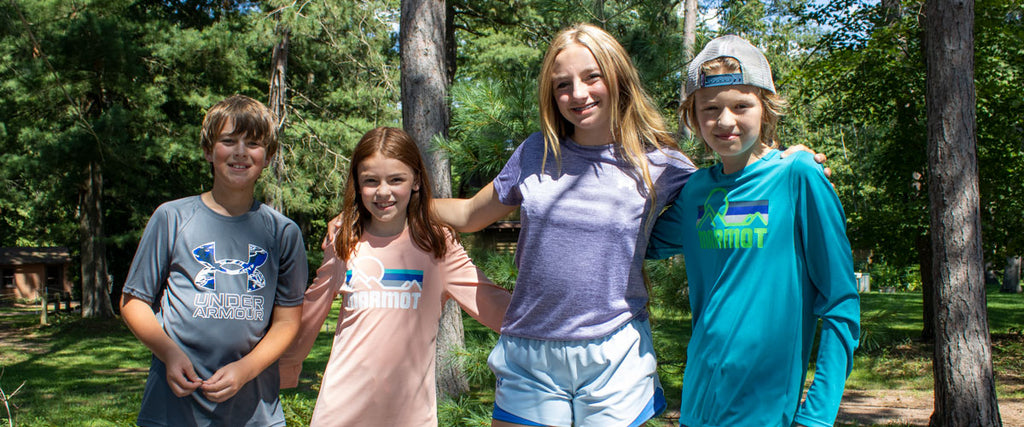 Get your summer camp clothing and outdoor apparel from top brands like Columbia Sportswear, Under Armour, The North Face and Marmot. We have boys' and girls' apparel, hiking clothes, footwear, and other outfits for camp.

Kids' Camping Clothes
One of the best ways to instill a love of the great outdoors in kids is to get them out into the wilderness early and often. Of course, this presents its own challenges, as the specialized gear like kid's trail shoes, and apparel needed for backpacking hikes, or tent camping can be hard to find in the right sizes. At Everything Summer Camp, we exclusively stock kid's sizes for all of your outdoor gear needs. We know that it's hard to have fun in shoes or raincoats that don't fit, and that's why we stock the brands you already know and trust like Marmot, Northface, Osprey, Kleen, and more!
Kids' Hiking Clothes
Having well-fitting clothes can make or break a hike, especially if the weather turns and your hike goes from a sunny climb to a soggy trek. It can be hard to find quality rain gear in kid's sizes, but the right rain jacket is vital to keeping dry while on the trails during a rain shower. Ensure your young camper is equipped with the best gear for the best experience by sizing them appropriately for any of their kid's hiking apparel needs. We specialize in stocking kids-size rain jackets, ponchos, swimwear, and more perfect for camping.
Kids' Camping Shoes
The most important piece of equipment for a hike is the right footwear. The wrong type of shoes like rubber-soled non-marking sneakers or even flip-flops can make hiking a painful or even dangerous experience. It's important that young campers have kids hiking shoes that properly fit them and provide them with the traction they need on varied terrain. At Everything Summer Camp we have lighter mesh hiking shoes available for kids as well as heavier waterproof options. Wherever the trail takes your young camper we've got the footwear needed to make the journey!