Designer Camp Trunks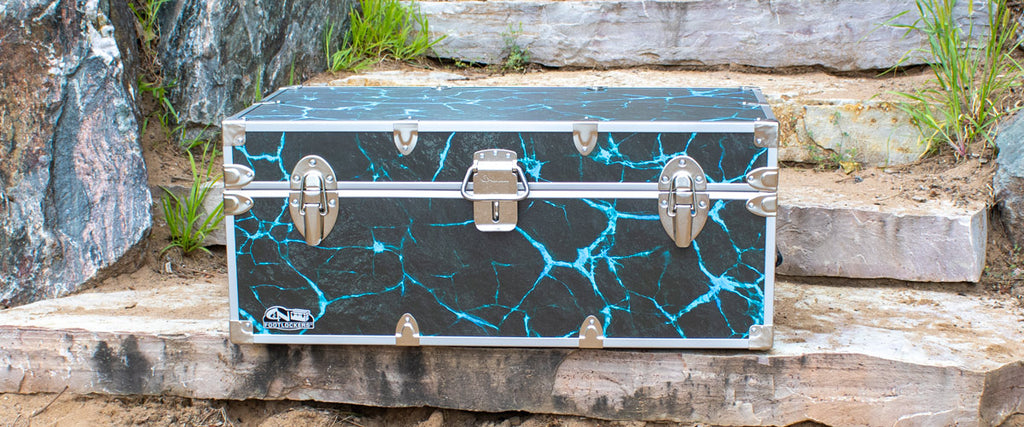 In addition to offering stickers and decals as well as nameplates for your trunk personalization, we also provide a range of stylish and durable trunks with the decoration literally built right into the construction. For the most dazzling trunk decorations, leave it to us—the trunk experts—at Everything Summer Camp.
Designer Trunks
While solid color trunks are timeless and classic, sometimes you want your camp luggage to have a little bit more pop and originality. That's where our designer camp trunks come in. 

We use the same long-lasting durable materials and lifetime repair warranty now with one-of-a-kind fun patterns and images. Whether you want a food-inspired cheeseburger camp trunk, or maybe even pineapples, these fun summer camp trunk designs are sure to stand out.
Camo Camp Trunks
One of our first patterns, and most popular sellers are our camo camp trunks. Our camo trunks come in 9 different available camo colorways including green, blue, cotton candy, neon, watermelon, urban orange, and more! 

These camp trunks are a great addition to any summer camp, hunting camp, or cabin house. Even though they're camo, we're certain your trunk will stand out among the crowd!
Tie-Dye Camp Trunks
Nothing says summer quite like tie-dye! Our spiral tie-dye camp trunk is a totally groovy and far-out option for any summer camping trip. This colorful spell-binding spiral is sure to catch the eye of friends all the way across camp. 

Synonymous with fun, this tie-dye camp trunk will put a smile on your face every time you see it for years to come.
Shop Tie Dye Summer Camp Trunks
Ombre & Gradient Camp Trunks
Advances in digital technology allow us to print high-quality color gradient and ombre styles directly on our camp trunks. 

These designs blend calming and vibrant colors to shift hues and perspectives toward a summer filled with fun. Our ombre camp trunk comes in three colorways: Landscape, Purplicious, and Watermelon!

Camp Trunk Questions
If you have any questions about your summer camp packing list or any size restrictions for your camp luggage don't hesitate to contact our summer camp experts. We have over thirty years of experience helping campers have the best summer camp experience! We're confident we can help answer any questions you may have.